Plate Girders
Plate Girder and Beam Assembly Line
with plate cleaning and beveling machine
Change the way you do business
Features and Benefits
Types of beams: I Beams – H Beams – Wide Flange Beams – Non Symmetrical Beams – Tapered Beams – Star / Cruciform Beams – Box Beams
Auto flange straightening and web alignment
Lower heat input, lower distortion
Both sides welded simultaneously
Better penetration
Web: Height 200 – 2500mm (Thickness 4 – 50mm)
Flange: Width 200 – 1250mm (Thickness 6 – 75mm)
Max Length: 20,000mm
Min Length: 3000mm
6mm CFW at 1100mm/min
12mm CFW at 750mm/min
Full penetration welding available on request
Our all-in-one beam fabrication solution.
We aim to provide an all-in-one solution for our clients. The plate cleaning and beveling machine with centerline mill scale removal ensures consistency and quality. Taking care of all the preparation before the beam is assembled and welded in our state of the art beam welding line. We are capable of manufacturing many different kinds of plate girders according to the required specification.
Book a Demo / Get a Quote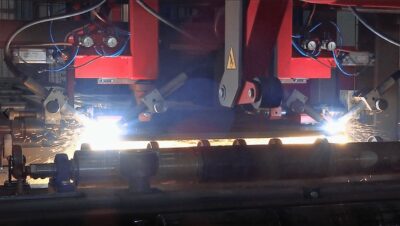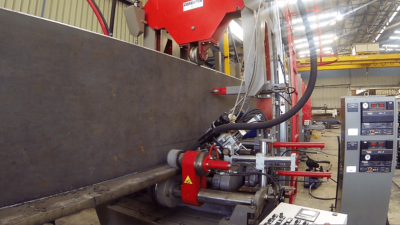 Technical Description
The beam welding line uses a dual tandem submerged arc welding process powered by four square sine wave power sources. This allows the process to be set to use a DC equivalent process for the lead arcs while using a deposition biased square sine wave AC process for the trailing arcs. By doing this we are able to maximise root penetration while also optimising deposition rates and minimising heat input.
*¹
400%
FASTER PRODUCTION RATES
*²
650Tons
TONNAGE PER MONTH
*¹ compared to traditional submerged arc plate girder / beam fabrication welding techniques.
*² based on historically achieved production rates. This may vary dependent on complexity and type of work.